Author: Natasha Roy
Post Type: Valentine's Day Gift Ideas
Read Time: 5 Minutes
We know how much you love your guy. He has been treating you like a princess, helping you out with your life and most importantly tolerating your tantrums; there is so much that he does for you; you would want to grab this opportunity to show him how much you love him. And what could be a better chance than the Valentine's Day, that special day when you celebrate being in a relationship with the guy you love so much.
We also know he is the one who is usually gifting you and giving you treats for different reasons, just to see that smile on your face. Now it is your time to show him some real love and some appreciation that you value him so much in your life.
1. Gift Him an Awesome Watch
Men are fond of watches. They are part of a man's personality that makes them feel complete and manly. However, it should not just be any watch. And neither it should have to be an expensive one. All you have to do is buy a decent enough of a watch, both by quality and design. The watch should be good enough that it can be used in the office as well as casual occasions.
If you man has been watching a lot of TV, it is finally time that he focuses his mind on a book and spark up some gray cells. If you think that he needs some mental stimulation, there can be nothing better than buying him a book. He may not like it in the beginning, but you will have to egg him on to read it. Buy a book about something that interests him.
And yes! We mean it. If he has become a couch potato for too long, its time you gift him an awesome bicycle that will help him restore his health the fun way. He can take the bicycle out there and have some fun time while he pedals all the way on the track. He will eventually enjoy it.
4. Cook His Favorite Meal
And make sure that it is healthy, but not boring. Cook some chicken, turkey or roasted bacon and lasagna or whatever he loves to devour. Cook it so damn well, that will not forget this Valentine's Day ever. Make it a mouthwatering Valentine's Day for him.
5. Buy Him an Awesome New Shirt
Also, it should not be boring. Here is an idea. Let the shirt be custom made with his name and a message printed on it. Let's say, something like "the best boyfriend" or "the best husband." Or his name and then "awesome dude" or something along those lines. We are sure that he will love a personalized t-shirt.
6. Gift Him Male G string
For the toughest & sexiest guy of your life who loves and take care of you, give him something that enhances his manliness. What better for him than a
Male G-String
! The wide side bands ensure that your guy stays comfortable throughout the day while the G-string enhances his buttocks.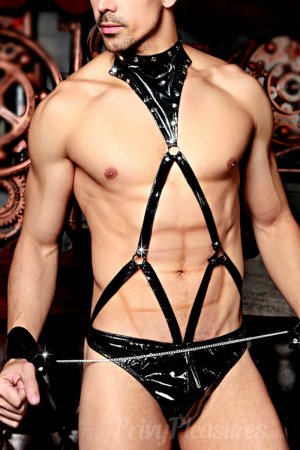 7. Buy Him Classic Men's Perfume
Just like women, men too love smelling good. Gift him a classic French perfume that will give out that strong musk-like masculine scent, that he can use for any occasion. There are so many cool brands of men's perfumes; he will surely love to sport one of them.
Disclaimer: All Images taken from Internet through Search Providers. If any image below to you and if you prefer a link-back/removal then please feel free to write to me at makeupandu@gmail.com
~ This is a sponsored post.