While all of you must already be aware that Airtel India has launched their 4G services in India through their flooding TV advertisements, you must also have known about their challenge :D
Yes they are also leading a #Airtel4GSpeedTest which challenges that the 4G technology will be faster than their 2G\3G connections and if you prove its not (Means if you prove any other network is faster than Airtel 4G) – then you would be getting a free lifetime connection from Airtel. Its pretty cool and impressive challenge right? ;)
You can take up this challenge on twitter to see for yourself!
I was really interested in knowing how it is better and was also eager to win them away :D So I took this challenge and below are the results I achieved ;) I would love to try their 4G SIM as well as im really interested in experiencing this speed everyday :)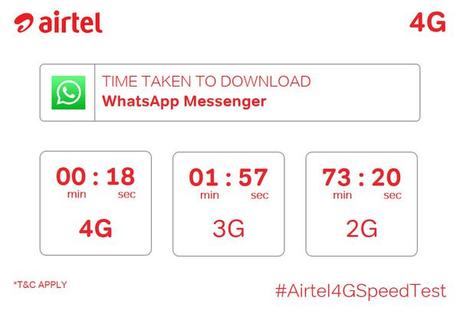 Airtel has 4G plans not only for mobile network but also for broadband, wifi connections, dongles and what not!
A little about 4G networks
4G networks are supposed to be performing way better in terms of data connections making your online life a lotttt faster than you can think of. Maybe you can get your wifi speed in your mobile connection ;) 4G connections work best in 4G mobiles like Moto G (Gen 3), iPhone 6, Yu Yuphoria, Yu Yureka, Mi note 4G, Samsung Galaxy Note 4 and a few more.
However the current promises are that Airtel 4G connection would also work better on 3G mobiles too. Guess most of us will be owning a 3G mobile by now? If not there are so many out in the market for far cheaper prices even. Airtel provides you a 4G SIM to test it out so that you can be sure of your choice and yeah participate in their contest and win win if you can :D
For more details visit www.airtel.in\4G to know more about it and to order a 4G SIM for yourself. Go on test it and you might be a lucky one to win a lifetime connection ;)